Re: A guide to playing bugsite.
Posted: Fri Jun 12, 2009 12:21 pm
Starting up Bugsite for the first time

Go "Downstairs". After some automatic dialogue go talk to the person we can assume to be the protagonist's mother. Return back upstairs and enter the "Computer room". There is now a package there. Open the package to get your first chip, enter your name, and access Bugsite. Note the computer used to access Bugsite, it is an access point. More on that later.
Passwords, Site Gate, and the Item Menu

The site gate can confuse a few first time players. The marked object is the password entry for each server. Now you may be wondering where the heck you would get a password from. I'll explain.
Press "start". You will be presented with 8 menu options represented by icons. I will go into each of those later, but for now just choose this icon:

This will lead to to the item screen. The item screen is split into three sections, each accessible by using the left or right directional buttons:

The misc. items screen is for various miscellaneous items you can use throughout the game, including, but not limited to, healing items.
The next screen contains chips.
The last screen is passwords. The descriptions for each item on this screen contains a password that can unlock a server under the site gate. As you can see the first password on the list is "AMFE10". Always keep an eye out for new passwords.
A quick note about chips:
Chips are sort of like equipment for your Bugs, but you require them in order to use your Bugs in battle. A Bug without a chip can't do anything. I believe it is more effective to use a chip on a Bug from the same maker (e.g. FE chip on an FE Bug), though you are still able to attach a different company's chip on your Bug if you wish to do so. Chips over 64G cannot be used by users below rank A.
A quick note about the various companies in Bugsite:
The Bugs in Bugsite were designed and created by fictional companies FE, Sting, Jank, Tahiro and Rugar. The Bug's makers (the company that made that specific Bug) are supposedly used for type advantages. FE, Sting, Tahiro and Rugar each have their own area in Bugsite.
Access points
Access points can take many appearances in Bugsite, but are always identifiable by the symbols

or

. They are sometimes marked with the label "Access P.". In the real world access points are symbol-less and are computers, like the one you used to first enter Bugsite.
Going up to an access point and pressing A will result in the following menu: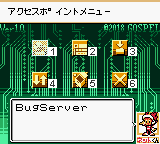 1. Allows you to deposit or withdraw Bugs from storage.
2. Accesses the Guardian website. Selecting HP or TOPHP for the first 5 options (named after each different company) will give you full Bug listings for that company. Selecting the second option for the first five options will allow you to input the passwords found at
http://rocketcompany.co.jp/bugsite/bug070.html
. The last option of the six is Bugsite's online auction system where you can bid for rare items or Bugs.
3. Saves the game.
4. This allows you to dive to the site gate. Of the access points within Bugsite, only the ones with the "O" symbol (as opposed to "X") will allow you to dive. In the real world the access points are unlabeled, so there is no way to know if an access point will dive or not until you try it.
5. Allows you to get rid of one or more Bugs.
6. Exit.
Note:
It is worth noting that accessing the access point menu will completely heal all of your bugs.
The start menu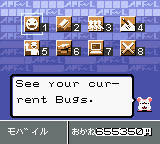 1. View bug stats and equip chips. The bug screen can switch between the Bugs used at the start of battle and the bugs in reserve.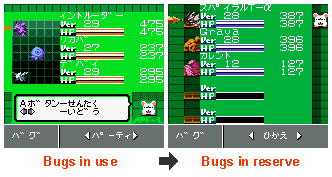 2. Items. Covered in another section.
3. Change the order of your party or switch Bugs to or from reserve. Bugs that do not have chips cannot be switched out of reserve.
4. This is the Bugsite equivalent of a dex, listing Bugs seen and caught.
5. User info. This contains your current Rank and Version.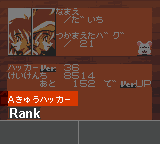 A rank of "A" is required to use any chips over 64G.
6. This is the Bug Sensor. Turn it on and press A where the beeping sound is strongest for the chance to find a Bug.
7. Change settings.
8. Exit.
Attacks
A bug can have up to 4 different attacks, learning any more attacks would require overwriting an attack that you already have.
An attack gets +1 to its version number every time that you use it. Once the attack reaches v99 it can, depending on the attack, change into a new, more powerful attack.